Cool Off Or Heat Up Your Rooms As Needed With A Reliable Mini-Split System
Since 2018, we've given homeowners the peace of mind that comes with a comfortable home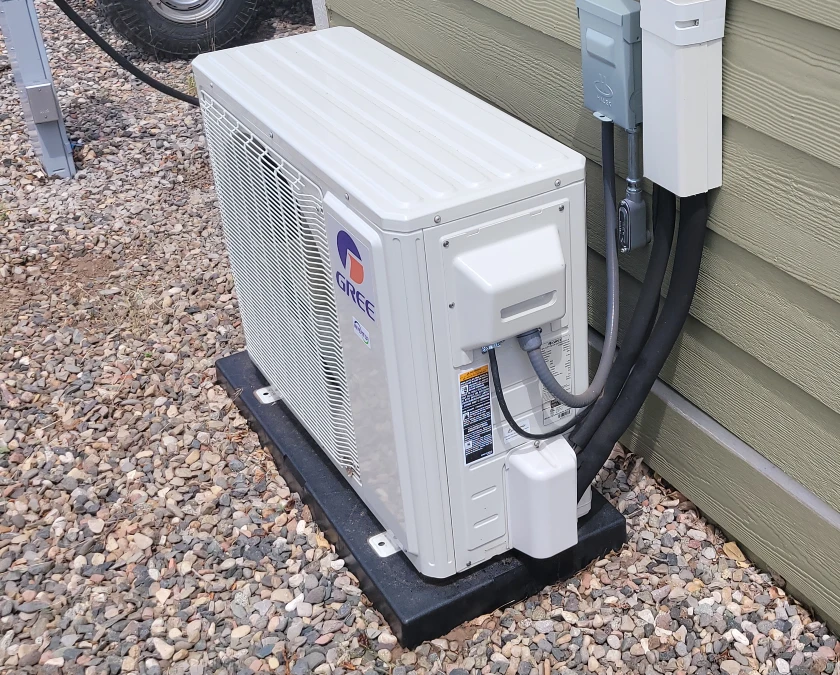 Refreshment At The Push Of A Button
The summer days can get unbearable, especially during heat waves. When that happens, you'll wish for a place to retreat to and enjoy yourself. Your home should make the perfect choice, especially when you've been outside for too long and you need to cool off for a bit. However, without the proper equipment and installation, there's not much you can do to increase your comfort level at home.
With a mini-split, we can give you back control over your house's temperature. Once the installation is complete, the simple push of a button will have your favorite room just as cool as you want it – perfect for you and your loved ones to enjoy.
When it gets too hot for being outside on a sunny summer day, gather everyone in the living room and have a refreshing time together.
A Perfect Atmosphere On Demand
Whether it's summer or winter, your home should feature a pleasant temperature on a daily basis, so you need a system that can offer you the best of both worlds.
This is the perfect job for a mini-split system. Especially during hot days of summer, mini-splits are ideal for cooling a room down and creating a refreshing atmosphere everyone will enjoy.
With the latest developments in mini-split technology, you won't even know they're on. Your family will be able to gather in a cool, welcoming space to chat, play games, and have a good time without experiencing uncomfortable temperatures.
We can help you get one installed within a few hours and bring comfort in the room you love to spend most of your time in.
Being comfortable in your home is essential, so there's no reason to let the temperatures outside ruin your day. Because we understand your time is valuable, we aim to provide a streamlined, easy installation process and let you enjoy your comfort at home as soon as possible.
Give us a call or fill in our form to describe your needs as best as you can. We'll get back to you with a phone consultation to discuss aspects such as budget, equipment, and timeline.
When all project details are settled and the unit you ordered is ready to be installed, we'll do our magic. We'll move quickly and make sure everything is set up properly, so you can enjoy your new comfortable space as soon as possible.

Once our job is done, we'll let you enjoy your improved home environment. As we want you to live peacefully for longer, we offer a 5-year labor warranty on all non-maintenance issues. Feel free to contact us anytime during that time period and we'll be happy to assist you.
Mini-Split Installation Prices
Creating the perfect temperature in your home can be a challenge if you don't have the right equipment. We're here to help you install the mini-split system you and your loved ones need to feel comfortable at home.
Essential Mini-Split Installation*
Includes a 16 seer mini-split with 1 indoor unit.
Standard Mini-Split Installation*
Includes a 20 seer mini-split with 1 indoor unit.
Premium Mini-Split Installation*
Includes a 24.5 seer mini-split with 1 indoor unit.
*Prices are averages and may change depending on the type of mini-split unit you choose, its variable price on the market, and the size of your home. You'll receive an exact quote for your mini-split system installation after the on-site consultation.
Here's What Our Customers Say…
Getting to know our customers and meeting their needs is a gratifying experience for us. Over the years, we've created great connections with homeowners and have proven that our punctuality and professionalism lead to great results. Here is what happy homeowners think about us:
We had Confident Comfort install a new AC unit and a new return from the far side of our house. After their work we are able to enjoy the far side of the house which used to be much hotter than the other side. Their work was very clean and we have nothing but positive things to say about their work.
So glad I found this company! They were booked pretty far out but ended up calling and scheduling a day or two before our original time. They came in and diagnosed our HVAC issue super quickly and quoted us a very reasonable price. Replaced a bad compressor within a few hours and got everything up and running faster than any other company we've used. Highly recommend and will definitely be using them in the future!
I love our new unit. Aaron is full of knowledge and the process easy. Was very timely and the customer service was great. I had waited a month for the other guys to get me bids.
Thank you Arron for such a great job.
The Comfort You Need At The Touch Of Your Fingertips