Air Conditioning Installation
Get A Safer And Healthier Home For You And Your Family
Since 2018, we've given homeowners the peace of mind that comes with a comfortable home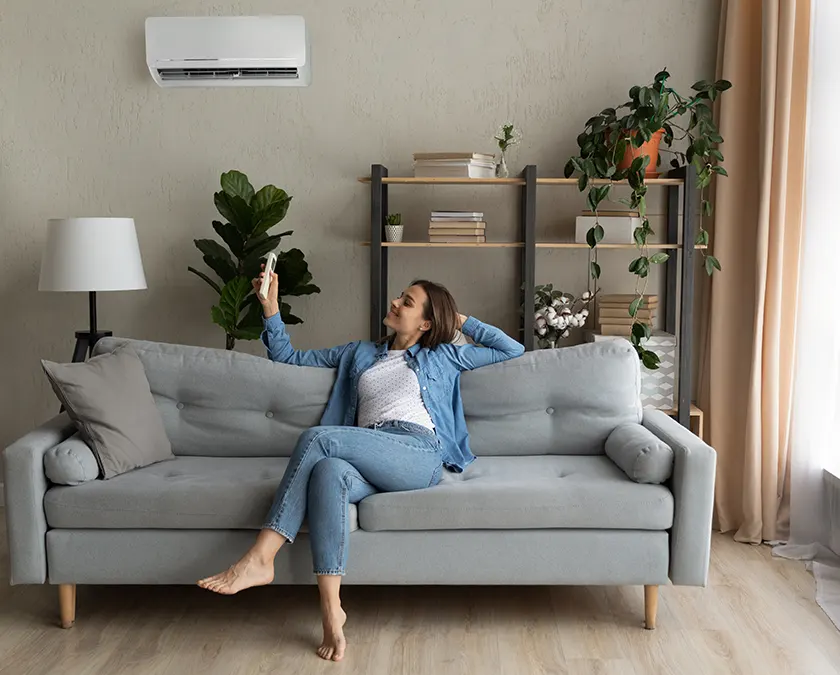 Unwind And Enjoy A Temperature-Balanced Home
Noontime during summer may turn a classic home into a space where high temperatures reign supreme. Instead of trying to survive the heatwave on your own, try adding an AC unit to your home. You'll be delighted to find a new sense of comfort indoors.
Feel free to turn your attention to activities you always wanted to tackle. Do you feel like doing a quick workout? Or maybe bake that cake you saw on TV the other day. Sweating and oven heat are no longer issues during summer.
Forget about high temperatures bothering you again when at home. With air conditioning, your living space is ready to welcome all your indoor hobbies.
Give Your Family The comfort they deserve at home
As the global temperature goes higher from one year to another, summers tend to get even warmer. Especially during those long afternoons when it tends to get hotter outside, beyond your comfort level. And if you have small kids as well, you probably know already that high temperature can affect their well-being too.
Imagine being able to take control of the climate of your baby's room, home theatre, or any other place in your living space with the touch of a button. Install a new air conditioning system that you can access from anywhere in the house and give your family the comfortable environment they deserve at home.
Being comfortable in your home is essential, so there's no reason to let the temperatures outside ruin your day. Because we understand your time is valuable, we aim to provide a streamlined, easy installation process and let you enjoy your comfort at home as soon as possible.
Give us a call or fill in our form to describe your needs as best as you can. We'll get back to you with a phone consultation to discuss aspects such as budget, equipment, and timeline.
When all project details are settled and the unit you ordered is ready to be installed, we'll do our magic. We'll move quickly and make sure everything is set up properly, so you can enjoy your new comfortable space as soon as possible.

Once our job is done, we'll let you enjoy your improved home environment. As we want to give you peace of mind, we offer a 5-year labor warranty on all non-maintenance issues. Feel free to contact us anytime during that time period and we'll be happy to assist you.
Air Conditioning Installation Prices
Creating the perfect temperature in your home can be a challenge if you don't have the right equipment. We're here to help you install the air conditioner you and your loved ones need to feel comfortable at home.
Essential Air Conditioning Installation*
Includes a 14 seer system.
Standard Air Conditioning Installation*
Includes an 18 seer system.
Premium Air Conditioning Installation*
Includes a 20 seer system.
*Prices are averages and may change depending on the type of AC unit you choose, its variable price on the market, and the size of your home. You'll receive an exact quote for your AC unit installation after the on-site consultation.
Here's What Our Customers Say…
Getting to know our customers and meeting their needs is a gratifying experience for us. Over the years, we've created great connections with homeowners and have proven that our punctuality and professionalism lead to great results. Here is what happy homeowners think about us:
Our furnace stopped working during the coldest week of the year, and Sean from Confident Comfort was out to our house very quickly. Aaron took over the job as it was more complicated than we hoped (we have an uncommon brand of furnace for the area), and was punctual and informative for all appointments. It's so nice to have heat again; thanks for the great service!
I am very happy I called Aaron Keams with Confident Comfort to help get my furnace running! Aaron found the problem quickly and helped guide me getting my propane company out to repair my regulator.
Aaron was available to answer questions I couldn't answer and extremely helpful. We had a lot going on when he came to finish the repair as we had a lightning strike and we kept finding additional items affected. He was kind enough to help me try and figure out what was going on with my stove when he was there to repair the furnace.
I would trust him with any HVAC concerns. Thank you Aaron with Confident Comfort, you have my business!
Our house furnace went out the day of the start of our latest cold spell. While we had to wait 24 hours for the visit, it was worth it to have Confident Comfort do the repair.
Their technician Sean actually arrived about an 1.5 hours early, and he explained in layman terms exactly what he thought the problem was – a faulty pressure switch. He then gave me the very reasonable cost estimate and did the repair. House is warming up quickly. Thank you Confident Comfort. Will be calling on you again!
Take In A Breath Of Fresh, Cool Air Each time You're At home